Alfred University Libraries will host the last Team Trivia Night of the semester Saturday, April 15th from 8 to 10 p.m. in Herrick's Bookend Lounge.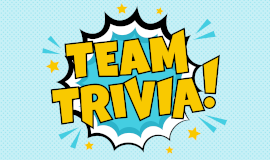 Returning as host of Team Trivia Night is DJ Mike Allen of Elmira.  His trivia questions cover a broad range of topics such as current events, sports, geography, and history. He intersperses his trivia questions with pop music, making for an enjoyable evening for those participating.
Groups are welcome to come to compete as a team; individuals are also welcome to play either solo or to join others to compete for the prizes awarded to the top teams.
Pizza and soft drinks along with milk and cookies will be provided, free of charge, to all participants.