Stop by and check our AU Libraries' Pride displays at Herrick and Scholes!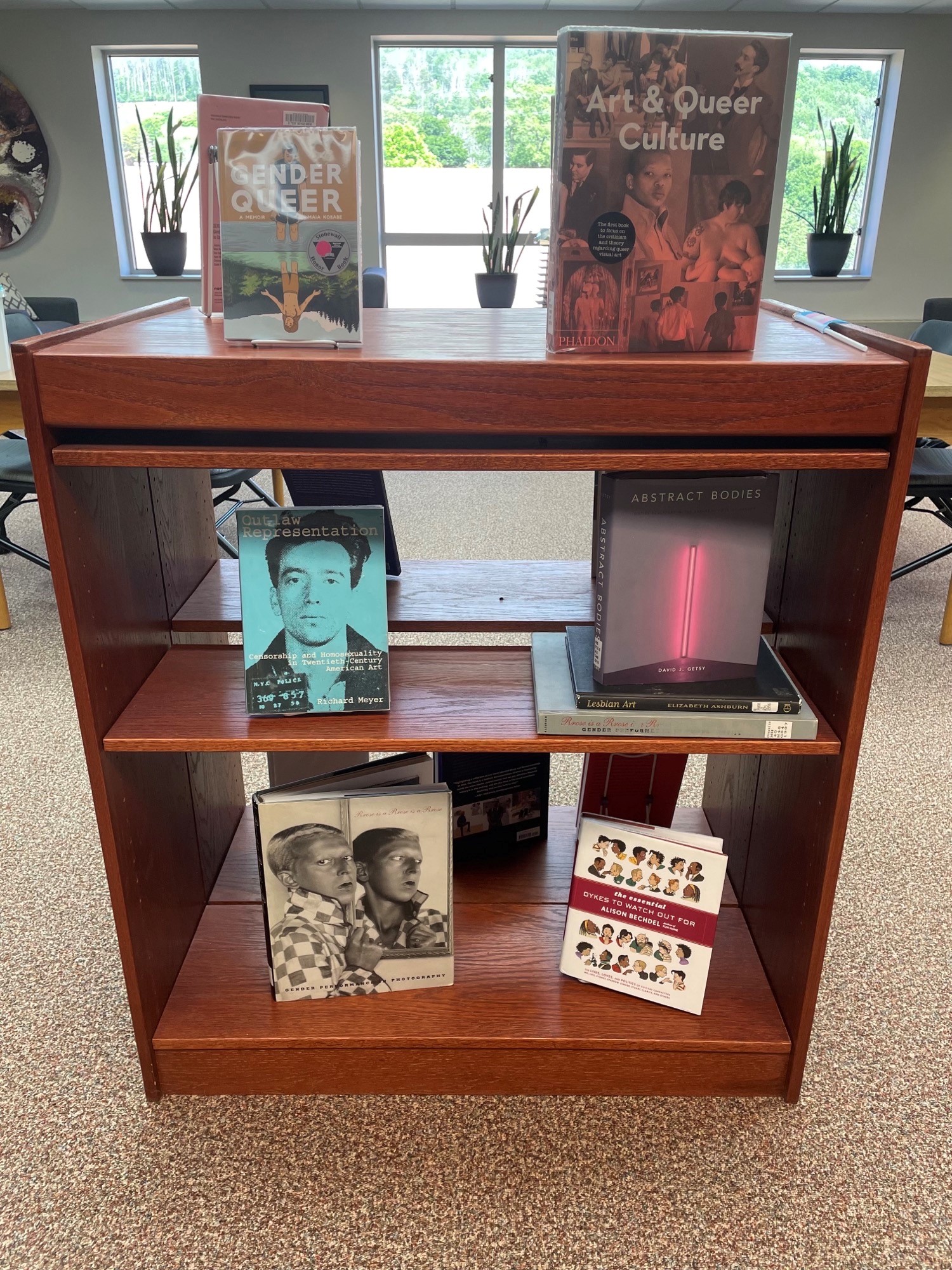 While supporting the voices of those in the LGBTQAI+ community is a year-round commitment, Pride Month presents an opportunity to really foreground the issues, ideas, and art of the LGBTQAI+ community.
Not only is Pride Month a time for celebration, but it is also a time for remembrance of the 1969 Stonewall Riots in New York City. This event, also known as the Stonewall Uprising, sparked a new wave of activism and tradition, which has grown over the past few decades.
According to the American Library Association, LGBTQ+ content is one of the most often cited reasons books are banned or challenged. Alfred University Libraries seek to be active partners in support of the LGBTQAI+ community, the freedom to read, and a welcoming and inclusive space for all. Here you can read the full AU Libraries Commitment to Anti-Racism and Anti-Oppression including progress on our action items.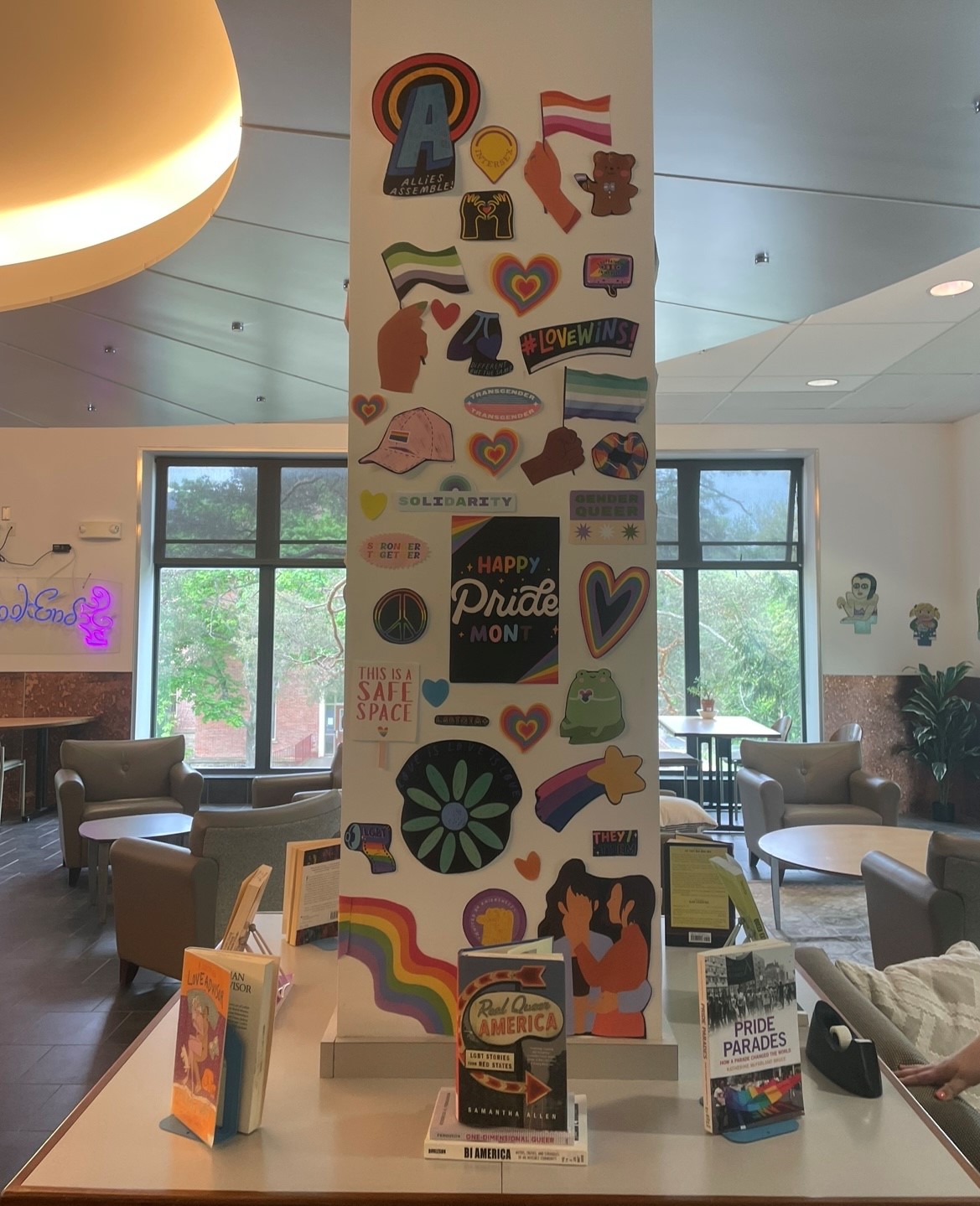 Examples of Materials on Display (stop by for more!)
Below are some of the voices on display through June. Stop into either Herrick or Scholes Library for more materials and resources!
Art & Queer Culture by Catherine Lord & Richard Meyer
Scholes Library Display N8217.H67 L67 2013
Spanning 125 years, Art and Queer Culture is the first major historical survey to consider the ways in which the codes and cultures of homosexuality have provided a creative resource for visual artists. Attempts to trouble the conventions of gender and sexuality, to highlight the performative aspects of identity and to oppose the tyranny of the normal are all woven into the historical fabric of homosexuality and its representation. From Oscar Wilde to Ryan Trecartin, from the molly houses of eighteenth-century London to the Harlem drag balls of the 1920s, the flamboyant refusal of social and sexual norms has fueled the creation of queer art and life throughout the modern period.

The Gay and Lesbian Guide to College by John Baez, Jennifer Howd, Rachel Pepper and Princeton Review
Herrick Memorial Library Display LB2343.32 B225 2007
A practical guide to higher education addresses the specific challenges confronting gay, lesbian, bisexual, and transgender students during their college career, covering such topics as how to select a college, dorm life, activism, health resources, support networks, and issues and resources for LGBT youth of color.
Pride Parades by Katherine McFarland Bruce
Herrick Memorial Library Display HQ76.965 .G38 B78 2016
On June 28, 1970, two thousand gay and lesbian activists in New York, Los Angeles, and Chicago paraded down the streets of their cities in a new kind of social protest, one marked by celebration, fun, and unashamed declaration of a stigmatized identity. Forty-five years later, over six million people annually participate in 115 Pride parades across the United States.
Queer externalities: hazardous encounters in American culture by W.C. Harris
Herrick Memorial Library Display HQ76.3 .U5 H3695 2009
In television shows such as Queer Eye for the Straight Guy, and movies like Brokeback Mountain, as well as gay young adult novels and other media coverage of queer people – including the outing of several prominent Republicans – queer lives are becoming more visible in the media and in U.S. culture more generally. How does the increasing visibility of queer subjects within mainstream culture affect possibilities for radical and transformative queer activism?
Real queer America: LGBT stories from red states By Samantha Allen
Herrick Memorial Library DisplayHQ73.3 .U6 A44 2019
In Real Queer America, Allen takes us on a cross-country road trip stretching all the way from Provo, Utah, to the Rio Grande Valley to the Bible belt and to the Deep South. Her motto for the trip: 'Something gay every day.' Making pit stops at drag shows, political rallies, and hubs of queer life across the heartland, she introduces us to extraordinary LGBT people working for change, including the first openly transgender mayor in Texas, a bisexual activist in Mississippi, the manager of the only queer bar in Bloomington, Indiana, and many more. Along the way, Allen weaves in her own moving story of discovering her identity, venturing out of the closet, meeting her wife, and creating a national network of chosen family.
Stonewall by Martin Bauml Duberman
Herrick Memorial Library Display HQ76.8 .U5 D85 2019
On June 28, 1969, the Stonewall Inn, a gay bar in New York's Greenwich Village, was raided by police. But instead of responding with the routine compliance the NYPD expected, patrons and a growing crowd decided to fight back. The five days of rioting that ensued changed forever the face of gay and lesbian life. In Stonewall, renowned historian and activist Martin Duberman tells the full story of this pivotal moment in history. With riveting narrative skill, he recreates those revolutionary, sweltering nights in vivid detail through the lives of six people who were drawn into the struggle for LGBTQ rights.
We are here: visionaries of color transforming the art world by Jasmin Hernandez, Sunny Leerasanthanah & Beatz Swizz
Scholes Library Display N6490 .H4645 2021
We Are Here presents the bold and nuanced work of Black and Brown visionaries transforming the art world, with a particular focus on queer, trans and nonbinary artists. This collection features fifty of the most influential voices in New York, Los Angeles, and beyond. Striking photography of art, creative spaces, materials, and the subjects themselves is paired with intimate interviews that engage with each artist and influencer, delving into their creative process and unpacking how each subject actively works to create a more radically inclusive world across the entire art ecosystem.
Zanele Muholi by Zanele Muholi, Sarah Allen, & Yasufmi Nakamori
Scholes Library Display NH681.H65 M842 2020
Born in South Africa in 1972, Zanele Muholi came to prominence in the early 2000s with photographs that sought to envision black lesbian, gay, bisexual, trans, queer, and intersex lives beyond deviance or victimhood. Muholi's work challenges hetero-patriarchal ideologies and representations, presenting the participants in their photographs as confident and beautiful individuals bravely existing in the face of prejudice, intolerance, and, frequently, violence.
Additional Resources
Below are resources for those looking to further their education, join the community, and keep Pride going all year long!  
https://www.digitaltransgenderarchive.net/
https://www.genderspectrum.org/
https://www.lib.umn.edu/collections/special/tretter
https://www.translatinacoalition.org/
https://www.qzap.org/v9/index.php
References
Metcalf, M. (2019, June 1). LGBTQIA+ studies: A resource guide: 1969: The stonewall uprising. Research Guides. Retrieved June 8, 2022, from https://guides.loc.gov/lgbtq-studies/stonewall-era
Pride month: Resources by Loida Garcia-Febo. CPDWL Blog. (2020, June 29). Retrieved June 8, 2022, from https://blogs.ifla.org/cpdwl/2020/06/29/pride-month-resources-by-loida-garcia-febo/
"Top 10 Most Challenged Books Lists", American Library Association, March 26, 2021.
http://www.ala.org/advocacy/bbooks/frequentlychallengedbooks/top10 (Accessed June 16, 2022)
Document ID: 8417fa9e-ceff-4512-aca9-9fbc81b8bd81