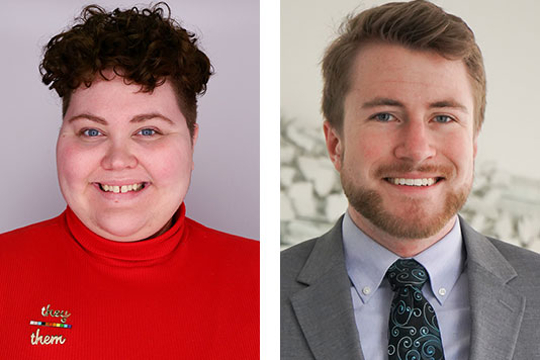 Congratulations to Knox VanRenselaar for being named 2023 Marlin Miller Outstanding Senior! VanRenselaar worked at Scholes Library for more than three years, first as circulation desk assistant, then as a circulation desk student supervisor.
Congratulations as well to fellow award winner, Owen Nelson.
While working at Scholes Library VanRenselaar spearheaded the initiative to create two satellite food pantries in Herrick and Scholes Library increasing the reach of the primary food pantry location in the Judson leadership Center.
From Amsterdam, NY, VanRenselaar is a double major who earned bachelor's degrees in history and theater in December 2022. They are pursuing a master's degree in philosophy and social policy from The George Washington University in Washington, D.C.
Read the full AU press release about Knox and Owen and their amazing accomplishments!
Congratulations to the winners and all the nominees!
The AU Libraries would also like to extend thanks to Marlin Miller for providing this generous honor to Alfred University students and to the selection committee for your contribution to this award.