Alfred University Libraries welcomes Maria Planansky to the position of Collection Management Librarian.
In this role, Maria will oversee acquisitions, cataloging, serials, donations, and electronic resources management across Samuel R. Scholes Library and Herrick Memorial Library and coordinate on State University of New York consortia-wide initiatives for collection management.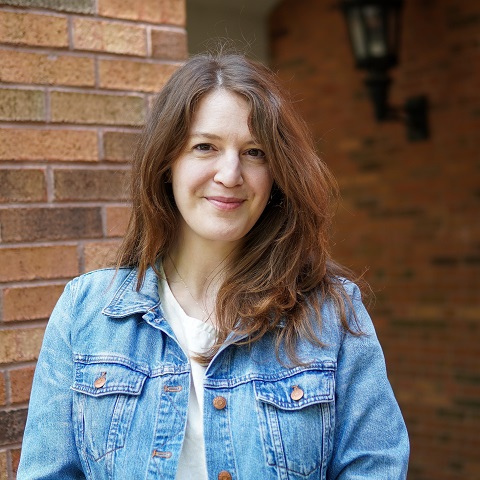 Maria will also work as the liaison to the College of Liberal Arts and Sciences with the Sociology, Criminal Justice and Political Science programs.
What was your background before Alfred University?
For undergrad, I went to Beloit College, which is similar in a lot of ways to Alfred. Both are smaller schools very focused on experiential learning. At Beloit I studied Political Science and Philosophy and continued with that after graduation: I worked at a social science research organization for many years and later taught high school social studies and humanities. More recently, I earned a Master's in Library and Information Science from Dominican University. While in school, I worked at Dominican University's Crown Library and the Pritzker Military Museum & Library in Chicago.
What interests you about your current position?
So much! The heart of the Collection Management Librarian role is making sure library resources serve students. That means ensuring that students are active participants when it comes to choosing what we include in our library collections.
What social media platforms do you use?
Instagram is my favorite, but Twitter is a close second. I'm not on TikTok, but this basset hound has me rethinking that decision.
Do you have a favorite research or tech tool?
I have favorite research advice.
Earlier this year, sociologist Tressie McMillan Cottom wrote an essay on Dolly Parton, called The Dolly Moment. It is really, really good. A week or so after that essay was published, she wrote about her research approach: read around the subject. In McMillan Cottom's words, "Reading around a subject is about going beyond the object of study to unpack, examine, or pick apart what the person or the object of study represents. That is usually where the good stuff is."
For straight-up research tools, though, I use Primo's citation generator. It makes everything so much easier! Citations can be tricky, and Alfred has a great Citation Help LibGuide that's full of resources.
What are you reading or listening to?
Earlier this summer a friend recommended the novel Detransition, Baby by Torrey Peters. It was fantastic! I've also been reading novels by Louise Erdrich, one of my favorite authors, and I'm pretty excited for Sally Rooney's Beautiful World, Where Are You. This past weekend we had the Otis Redding and Carla Thomas album King & Queen on repeat. It was a good weekend.