Nicolas has recently joined the Alfred University Library team as a Technical Services Assistant.  He is based primarily in Scholes Library where he can be found learning the ropes of serials and acquisitions.  We subjected him to a few introductory questions.
What was your background before Alfred University?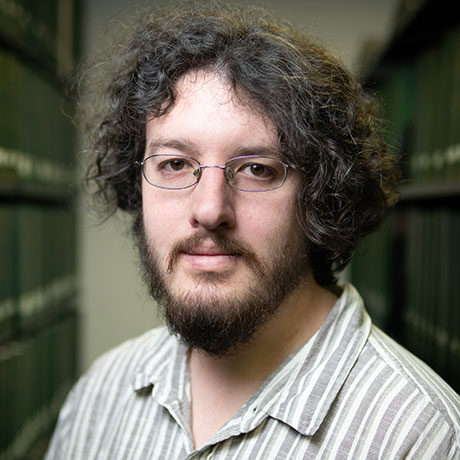 Education: Before coming to Scholes, I dabbled in business, history, and classics and earned a B.A. in Religious Studies (Global) at Pacific Lutheran University.  Then I went on to get an M.S. in Resource Management at Central Washington University.
Work: My first proper job was in a small upstate New York town called Alfred, at a library that focused on Art and Engineering… more recently I've interned at the Museum of Popular Culture, working on their Star Trek exhibit, and I had an internship at the Smithsonian in the ethnology artifact collections.
What is most interesting about your current position? So far I've loved seeing just how large a collection of serials we have at Scholes, and the range of subjects that they touch upon.  I'm also interested in how they can be integrated into the future plans of the Alfred University Libraries, and other internal initiatives.
What are you most proud of? Personally, I'm most proud of my signed book collection.  Starting in high school (with a gift of a signed copy of the Name of the Wind, from a friend of mine), I made a point and effort to meet as many of my favorite authors as I could, and talk to them, and get personal messages and signatures.  Some of the authors I'm most proud of meeting and getting signatures from include Garth Nix, Scott Lynch, Patrick Rothfuss, Brandon Sanderson (at least three times), and Robin Hobb (who I had a delightful cup of tea with once, and scones another).
I'm also quite proud to have worked on the EMP Star Trek exhibit—that's now traveling the US—and of my work on Balinese ceremonial daggers at the Smithsonian.
What advice would you give to students today? Meet with your professors!  It doesn't matter if you necessarily talk about classes, or grades, or anything like that, but many professors have led pretty interesting lives (I especially recommend Anthropologists!) and are more than happy to give you sage advice, or at the very least, expand your interests and knowledge.  Who knows when or how they could help you, from anything to homework, to something that's been looming over you because of your personal life.  Build a rapport—profs are people too!
Favorite social media platform:  Discord—not only do I talk with my friends on it but I also follow several of my favorite authors, starting with Terry Mancour.  My follow up favorite is Facebook, because I talk to friends on it as well, but also because many authors will have book giveaways, and announce them there.
What are you reading? I'm currently rereading the Lies of Locke Lamora by Scott Lynch, Vinland Saga by Makoto Yukimura, and Ghostwater by Will Wight.  I'm also reading, for the first time, The Wandering Inn a web serial by pirateaba.
What do you like to do to for fun?  In the winter I like to read, watch anime and movies.  During the summer I play badminton and tennis when I can.  I'm also always up for a game of table tennis.
What is something would you like to learn?  I would love to learn a second language.  I took Spanish in high school, and Latin at PLU, but never reached mastery in either, and haven't used them much since.
What would be your desert island packing list?
1 book: Man vs Ocean: One Man's Journey to Swim the World's Toughest Oceans and Change His Life Forever.  Unless for some reason swimming off was completely out of the question.  Then Sabriel by Garth Nix.  I've already read it over 20 times, so I know it's a good read that would just keep giving.
1 album (let's pretend you have a solar powered audio device of some kind): the Vampire Hunter D: Bloodlust OST
1 snack (in endless re-supply): Pandekager with sugar and lemon juice
Is there anything about you that others would be surprised to know? Probably how much I've traveled in my life.  I spent months at a time in Bali during my childhood with my Anthropologist mother, tagged along with my father when he was a professor on Semester at Sea (Bahamas, Cuba, Brazil, South Africa, Tanzania, Kenya, India, Japan, Korea, and Canada), and then lived with my mom briefly in Australia after returning from SAS.  During the time between then and graduation, I spent several holidays as a tourist in Ireland, Bulgaria, and Greece.  After graduating high school, I took a J-term course studying Classical and Archaic Greece, followed that summer with an archaeological dig in Halmyris, Romania, and spent some time in London and Costa Rica over separate breaks.  I've also visited my maternal relatives in Denmark multiple times throughout my life, and have returned to Bali as an adult to visit new and old friends and haunts.