Alfred University Libraries welcomes Rebecca (Becky) Stewart as Technical Services Assistant.  Becky is learning cataloging and other specialized skills that help get library materials into students' hands.  Becky is not new to AU, but we are celebrating her new role with the libraries.
AU Library Apex intern, Haleigh Youll, collected some fun facts about Becky and her life!
What was your background before Alfred University?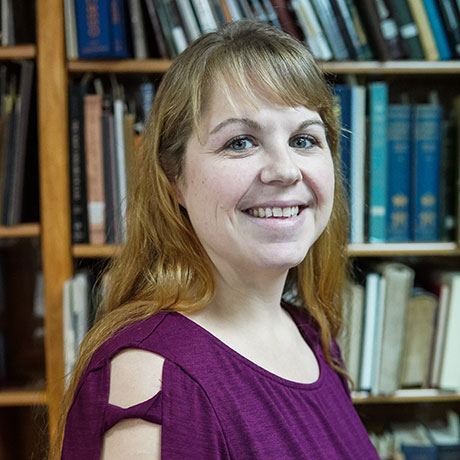 Retail that led into being a general manager for 8 years.  I decided to take on a slower role shortly after the birth of my twins. Most recently before coming to AU, I worked as a pre-school teacher. 
What is your educational background?  
I graduated Hornell High School, Class of 1999. Wildwood Education Center – Automated Office Practice -1999. Olean Business Institute – Business Management 2006. Eastern Gateway Community College – Accounting, Currently enrolled. Several Trainings for Child care safety, First Aid, Food/Nutrition classes. Currently enrolled in ALCTS – Fundamentals of Cataloging online course.
What are you excited to accomplish in your new role? 
Order/organization in the various holdings throughout the library.
What are you most proud of?
I started my career at AU as a Janitor. I want to learn as much as possible to support AU all the way around.
Who is your biggest supporter? 
My mom – forever my best friend.
Do you have any pets?
I have several: 2 dogs, 2 cats, 2 goats, 8 ducks, 1 potbellied pig, 1 bearded dragon, and too many chickens to count.
One thing you wish you knew when you were 20?
The importance of developing a personal relationship rather than trying to be strictly professional at all times with coworkers.
What do you do to relax? 
I enjoy reading. Gardening.
What is a skill or hobby you'd like to learn? 
How to sew.
What is your favorite place in the libraries?
1st floor and the various art placed around.