AU Libraries was pleased to award recoginition to six outstanding students at Honors Convocation.
The ceremony was held Friday April 21st, 2023 in Miller Theater. The awards were presented by the Dean of each recipiant's school or college with President Mark Zupan and Dean of Libraries Brian Sullivan on hand to congratulate the honorees. The AU Libraries Outstanding Researcher and Community Impact Awards were newly created this year and the Libraries are pleased to have the opportunity to recognize the accomplishments of our students.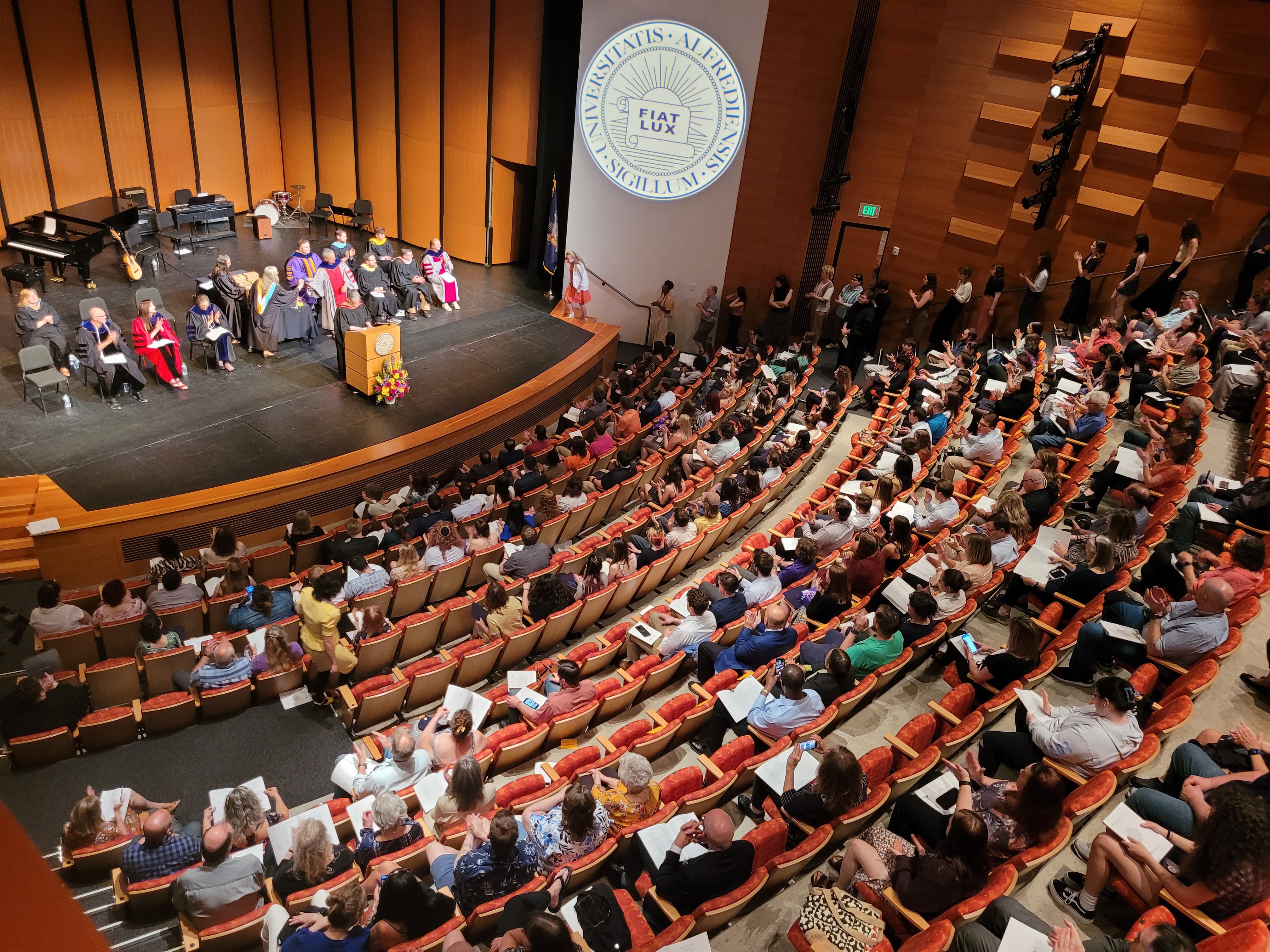 The AU Libraries Outstanding Researcher Award was given to two students: Paul Boldin and Rose Schreiber-Stainthorp. This award recognizes student researchers at the undergraduate and graduate level who have demonstrated excellence, innovation, and an understanding of information literacy and the research process as part of an original course-related research project, in any format or medium including creative work, which utilizes AU Libraries collections, resources, and services.
Paul was nominated by Abby Hurley, Coordinator of the Judson Leadership Center. Abby noted Paul's excellent work on his Women's Leadership Academy capstone project this semester, "His goal is to create an all-inclusive list and collection of the best resources for projects on topics of feminism, historical movements, and social issues.
Meghen Jones, in her nomination of Rose, cited a successful essay that was presented after the ceramics history seminar at the College Art Association conference. "The bibliography was well selected for this original research project on an artist's work that has not until now been the subject of scholarly research. The essay analyzes contemporary ceramic artist Bri Murphy's 3D printed ceramic bust of Washington in terms of historical memory and racism."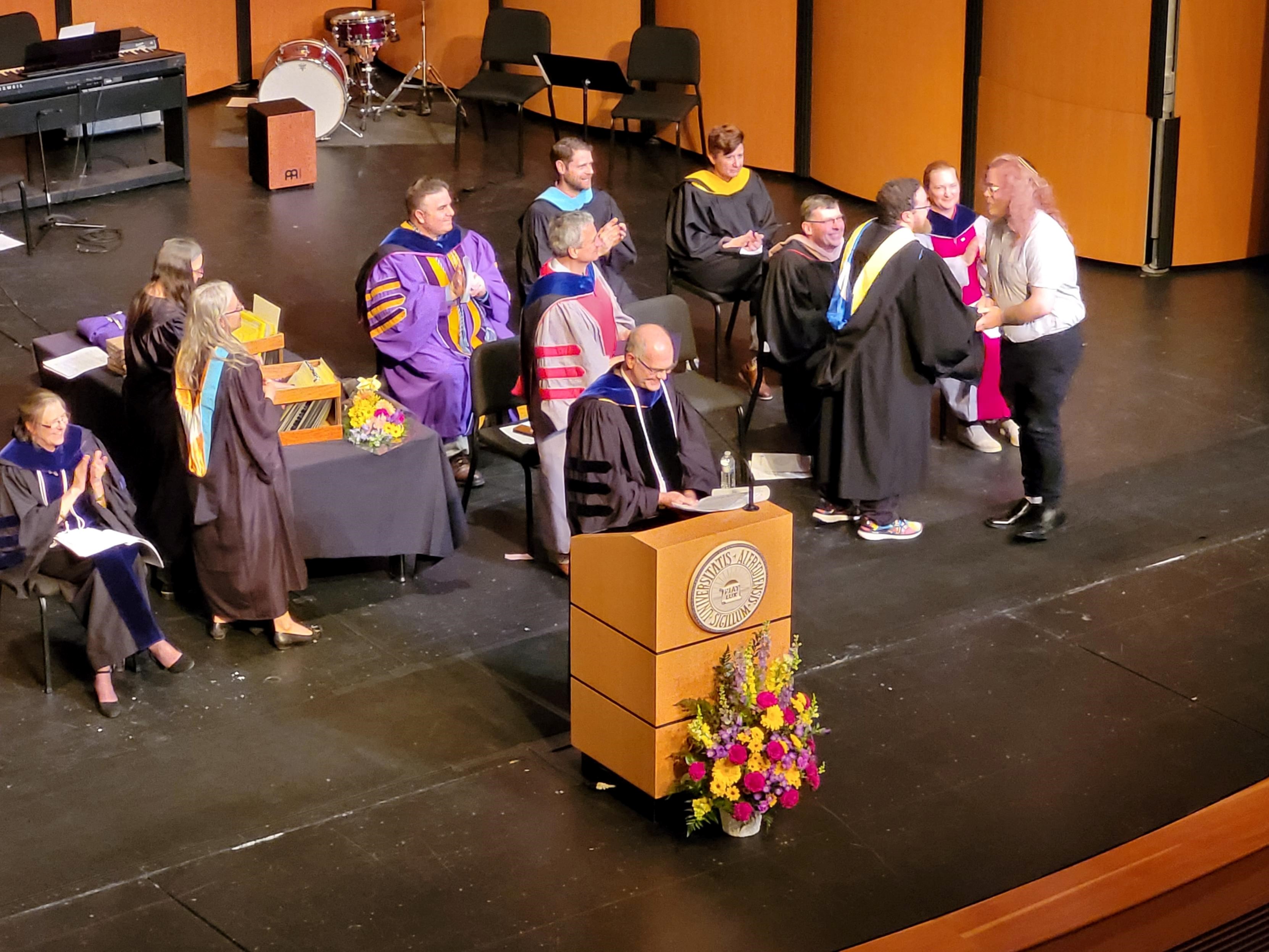 The AU Libraries Community Impact Award was given to Zac Laury and Adeye Jean-Baptiste. This award acknowledges and celebrates undergraduate or graduate students who have demonstrated exemplary leadership in promoting the Libraries' values on campus and in the community with clear and positive impacts as the results of these efforts. Some of the Libraries' core values are a commitment to anti-racism and anti-oppression, support for intellectual and cultural diversity, the free and open pursuit of knowledge, and a passion for sustainability. As part of an ongoing dedication to Diversity, Equity, Inclusion and Accessibility, the Alfred University Libraries seek to empower students to explore diversity issues, expand scholarly conversations beyond the historically dominant voices and perspectives, and inspire others to advance social justice.
Zac's nomination by Abby Hurley noted their Women's Leadership Academy capstone project this semester. "Zac's entire project is focused on shedding light on the stories of our community with the intent of helping us move forward and improve – something we cannot do without acknowledging the error of our ways or the problems in our community. Their idea is to help Alfred grow into the diverse and inclusive community it claims to be and to hold us accountable to our claims, specifically AU."
Lauren Lake nominated Adeye Jean-Baptiste, and noted her ambition and resourceful pursuit of her art practice with research, passion, and sincerity. Adeye proposed an idea to increase visibility for black glass artists. Her proposal was to create a visiting artist series/residency entitled "Black Glass Artist Series" (BGAS) which launched a new residency program in the month February (2022 & 2023) to provide visibility for emerging artists at Alfred University's School of Art & Design Glass Program. She led everyone through the campus experience during the residencies and organized an exhibit their work in our Inclusion, Diversity Equity and Access Lab. Her program led to the university's first VLOG (video log) series as well as industrial sponsorship from Olympic Glass.
The June Brown Award for Excellence in Library Service was created to honor June E. Brown, University Librarian Emerita. June Brown was a vital presence at Herrick Memorial Library for over two decades. She heightened campus awareness of the importance of libraries and expanded service to the Alfred University community. The award is given to seniors who have worked for the Alfred University Libraries at either Samuel R. Scholes Library of Ceramics or Herrick Memorial Library for at least two years, have a minimum GPA of 3.0, and have demonstrated exceptional performance and a commitment to the ideals June exemplified.
This year's awards went to Lilly Winning and Knox VanRenselaar. Lilly Winning, nominated by Laura Habecker was an outstanding student worker at Scholes Library providing exemplary customer service at the main service desk and taking on additional projects in the College of Ceramics Archives.
Knox VanRenselaar, nominated by Haleigh Mikolajczyk, was honored for their exceptional performance as a library student employee and their instrumental role in establishing satellite food pantries in Herrick and Scholes Libraries, combating the issue of food insecurity in campus.