Congratulations to Eva Sclippa, winner of this year's Public Relations/Exhibition Award from the South Central Regional Library Council! Eva, an assistant librarian at Scholes Library, was nominated for her leadership and organization of the Harry Potter's World exhibit and events, which took place this fall.
Last spring, Eva wrote a proposal to bring a National Library of Medicine Exhibit, "Harry Potter's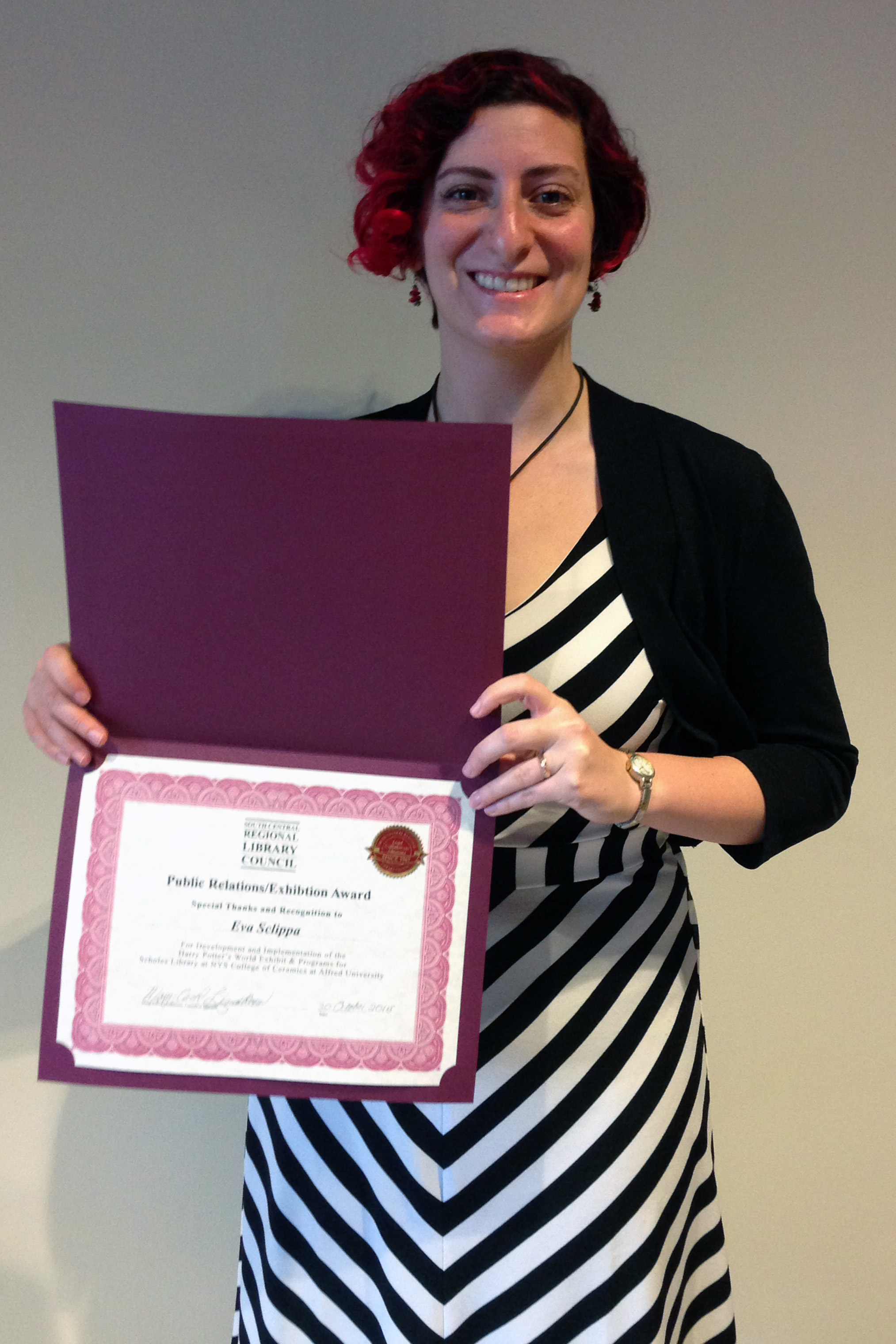 World," to Scholes Library. She went on to organize a whole series of events to supplement the exhibit, including scholarly talks by Alfred University faculty, a Horcrux scavenger hunt for incoming students, a juried art exhibit, a Harry Potter themed trivia night at Herrick Library, a film showing of "Discovering the Real World of Harry Potter," and a student Halloween ball.
Faculty responded enthusiastically to Eva's invitation to examine Harry Potter's World from a scholarly point of view, presenting talks on the idea of magic, the role of herbs in medicine, leadership styles as examined through characters in the books, the psychological impact of the Harry Potter series on readers, and more.
The Harry Potter events also included partnerships with local organizations, including the Alfred Farmers Market, the Alfred Box of Books Library, and the Almond Public Library.
Ellen Bahr, an associate librarian at Herrick Library, nominated Eva because she felt that "her vision and leadership of the Harry Potter's World events is worthy of special praise and recognition. The Harry Potter's World events have created new connections between the libraries and the communities we serve, and generated excitement and interest around the scholarly aspects of the Rowling books."
Eva attributes the success of the events to "the incredibly broad popularity of Harry Potter," and notes that,"fans could be found in all the strata of our community, from professors and college students to local parents and children."
Mary-Carol Lindbloom, Executive Director of the South Central Regional Library Council (SCRLC), presented the award to Eva at the organization's annual meeting in Ithaca on Friday, October 30. SCRLC is a non-profit, multi-type library consortium working to strengthen library services, programs and resources. It leads and advocates for member libraries by promoting learning, collaboration, and innovation.