With all of the photo based shows opening up this week around campus, I was inspired to re-visit a display I organized for Scholes library four years ago, the "1st International Photographic Button Show, or Revisiting the Button Button Show."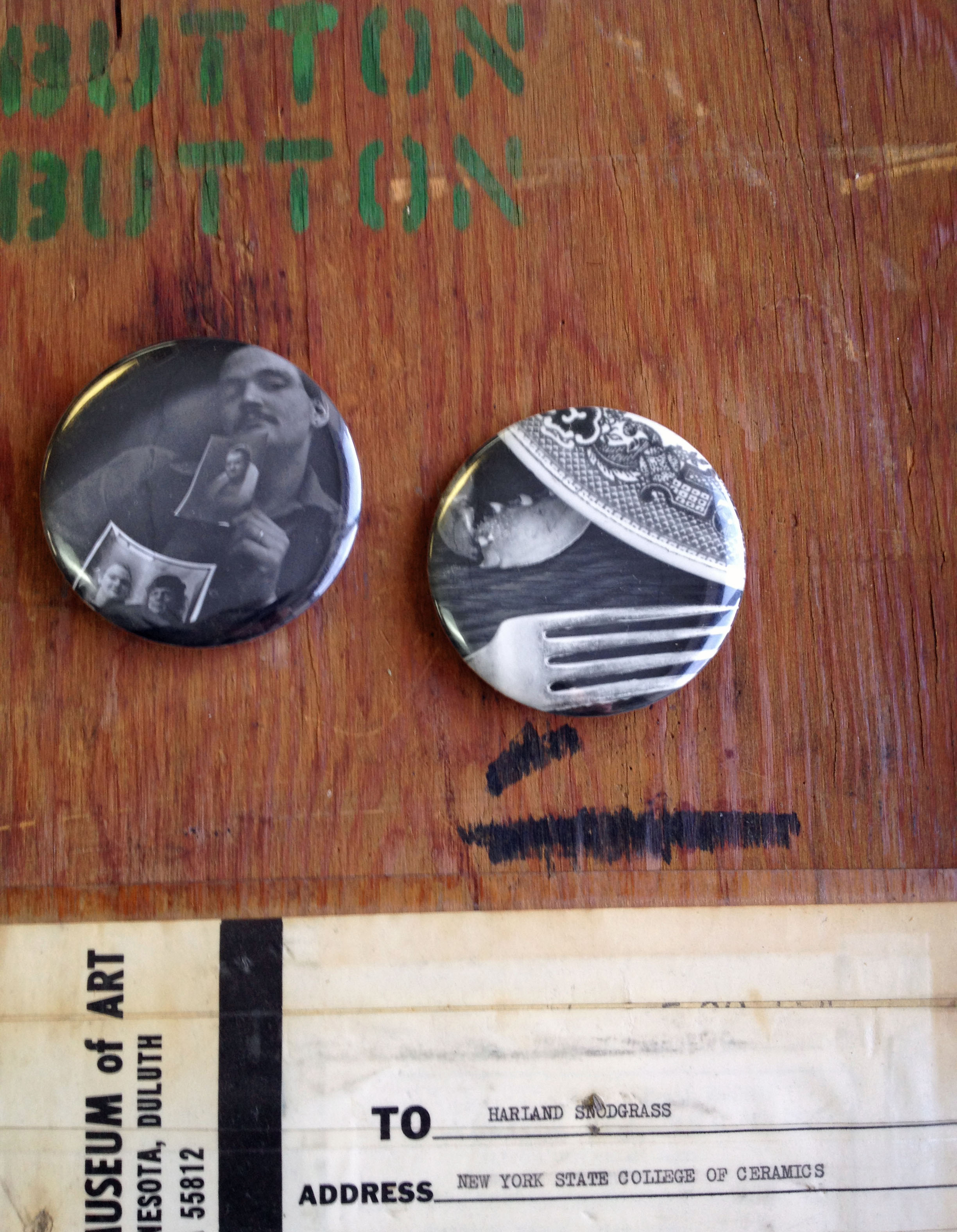 Harland Snodgrass, professor of painting and video at the College of Ceramics from 1969 to 1985, donated the buttons to Scholes Library back in 2008, along with a series of videotapes he made as a faculty member here.
The "Button Button" show originated in 1976 when Harland sent out over 2000 requests for submittals. Each artist who submitted work was asked to submit four identical images, one of which was returned as a button to the artist while the other three were added to the traveling exhibitions. Submissions came in from all over the United States, as well as Canada, Uruguay, Scotland, and England and, in the end, he received a total of 200 entries.  Each entry was die cut by Harland and made in to a button. The show traveled "from coast to coast," being exhibited in galleries and museums.
In 2010, Harland sent me an email describing the show, which was first installed in Fosdick Nelson Gallery in March 1977. At the end of the description he explains how one of the buttons contained a hidden video camera and the images of gallery visitors were projected live through a monitor at the front of Fosdick Nelson Gallery.
"The show was a dotted line  – buttons spaced eye height – about 8″apart, all around the entire gallery with late submissions piled up at the entry.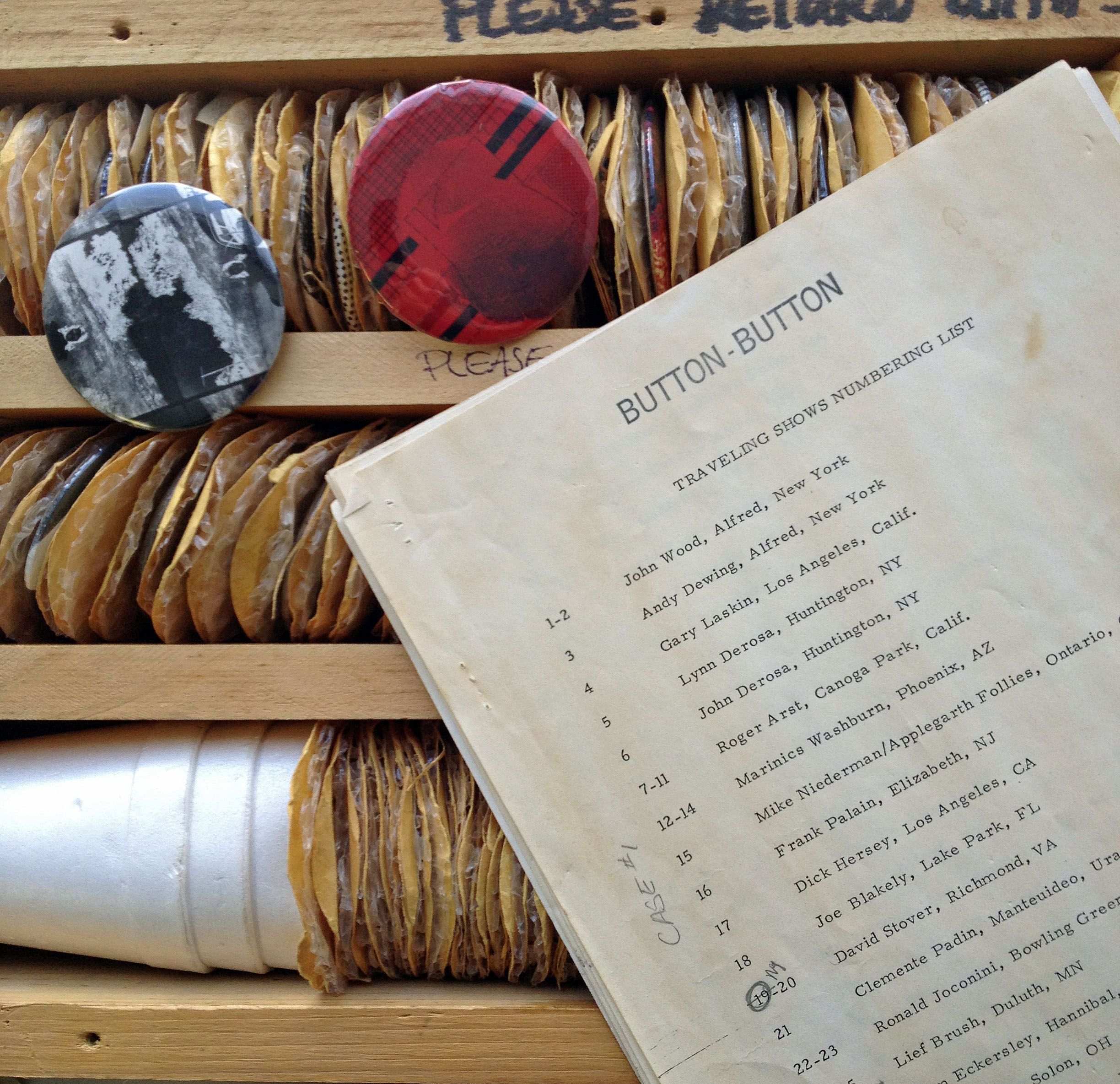 As crowd came in, they cued up and made this slow, shuffling line, following the dots around the entire space. Was wild because of the button's size, everyone was sucked right up to the walls and the entire center was empty. I made a show poster in the window foam board of the entrance saying BUTTON BUTTON with a 12 " hole cut out with a video monitor pushed up to it from behind. Looked like one of the buttons except it moved.
I had a very wide lens on a b/w camera and as folks came by the semi hidden camera, while looking closely at the buttons, they became a distorted, graphic part of the advertisement outside the gallery.  Moving button images . . ."    
— Snodgrass, Harland. E-mail to John Hosford, August 30, 2010
In the short time I have known him, Harland has always exhibited a keen sense of community with Alfred and, more specifically, with the School of Art and Design.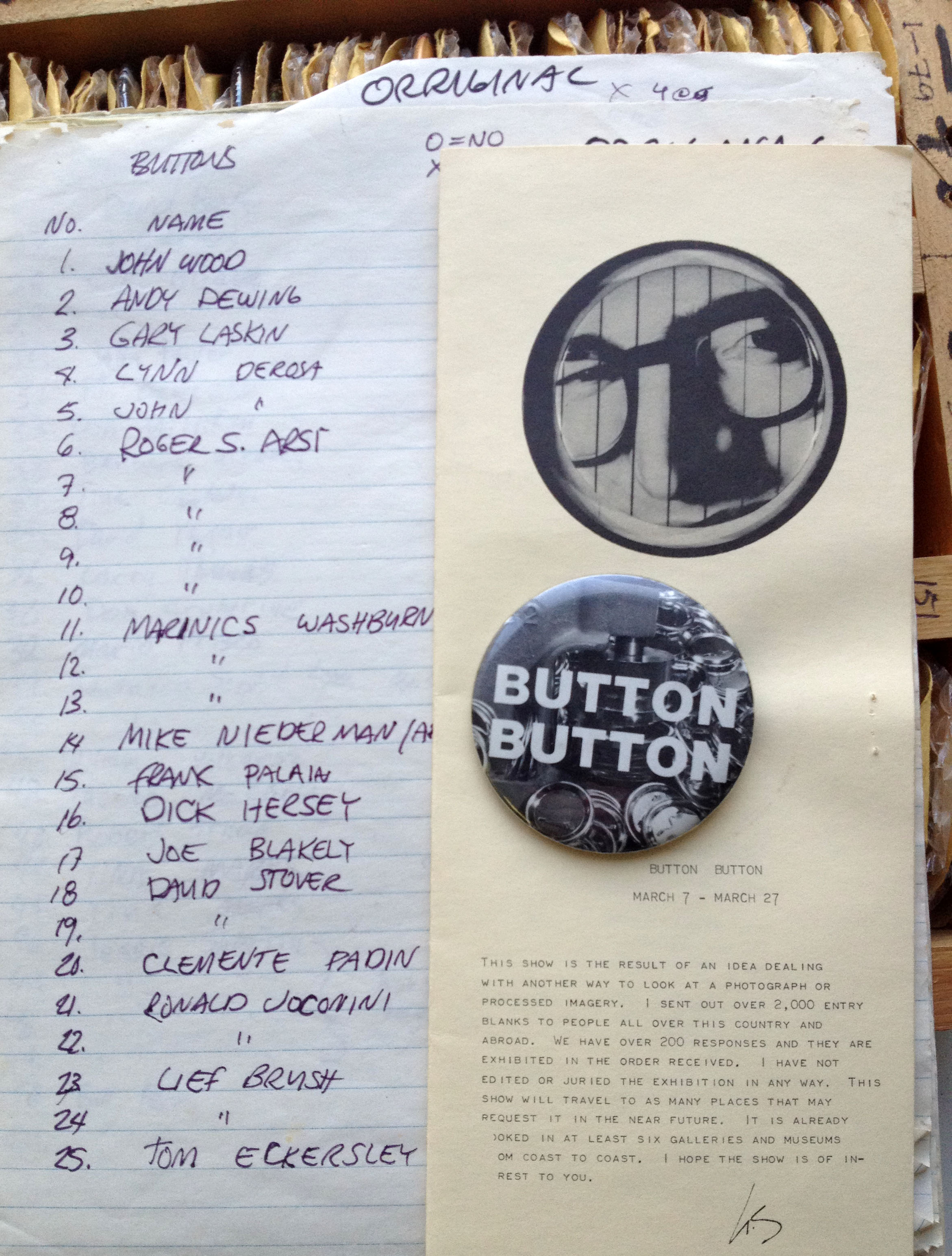 His donations to Scholes Library are "raw materials" that have been boxed, moved, stored, shifted, dropped, photographed, and finally shipped back to the relative comfort of Scholes Library in the village of Alfred, where they can be prodded and coaxed into new forms.
The display in Scholes Library will be up from February 10th through March 10th.
– John Hosford