Well, first of all, a reminder: the last talk, THE VERY LAST TALK, in the Hogwarts University lecture series is tonight, at 7:30 pm, in the Judson Leadership Center! Learn about feminism in Harry Potter and complete your Hogwarts education.
And, of course, that leads us to the final event of all, the Halloween Ball!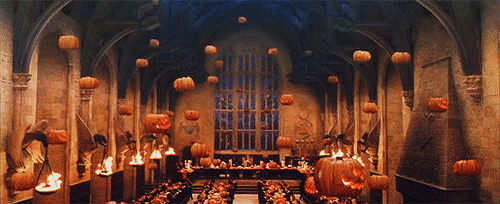 Co-hosted and sponsored by Spectrum, the Halloween Ball is this Saturday, at 8:00 pm, in the Knight Club on Alfred's campus (in the Powell Center). There will be a live choir performance at 9:00 of several selections of music from the Harry Potter movies, including "Double Trouble," which you may remember from the third movie:

Additionally, there will be COSTUME AND DRAG COMPETITIONS! For ASTONISHING PRIZES! No, seriously, I spent several minutes in my office just holding some of these prizes and wishing I was eligible to win them. I am so very, very jealous of whoever wins Best of the Halloween Ball. Or second place. Or any of the categories, actually.
Categories include Best Harry Potter/Hogwarts Costume, Best Drag, and Best Halloween/Magic Themed Costume.
So show up in your finest and prepare to bring home some amazing loot.
The Halloween Ball is open to all! Suggested admission is $2 and will be donated to a local charity.