A soloist musician, composer, and vibrant collaborator, Laura Ortman (White Mountain Apache) creates across multiple platforms, including recorded albums, live performances, and filmic and artistic soundtracks. Ortman has collaborated with artists such as Tony Conrad, Jock Soto, Raven Chacon, Nanobah Becker, Okkyung Lee, Martin Bisi, Caroline Monnet, Tanya Lukin Linklater, Martha Colburn, and Loren Connors. An inquisitive and exquisite violinist, she is versed in Apache violin, piano, electric guitar, keyboards, and amplified violin; she often sings through a megaphone and is a producer of capacious field recordings.
She has performed at the Whitney Museum of American Art and Museum of Modern Art in New York, Musée d'art contemporain in Montreal, and Centre Pompidou in Paris, as well as countless established and DIY venues across the United States, Canada, and Europe. In 2008, she founded the Coast Orchestra, an all-Native American orchestral ensemble that performed a live soundtrack to Edward Curtis' In the Land of the Head Hunters (1914), the first silent feature film to star an all-Native American cast.
She is the recipient of the 2020 Jerome@Camargo residency in Cassis, France, a 2017 Jerome Foundation Composer/Sound Artist Fellowship, a 2016 Art Matters grant, a 2016 Native Arts and Culture Foundation National Artist Fellowship, and a 2015 IAIA Museum of Contemporary Native Arts Social Engagement Residency, among other recognitions. She was also a participating artist in the 2019 Whitney Biennial. Ortman lives in Brooklyn.
During Laura's Residency she worked towards a solo performance, held in Miller Performing Arts Theater, Alfred University on Thursday, October 28th, as well as the production of two laser-woodcut pieces. The full solo performance was live-streamed on the Institute fro Electronic Arts' Youtube channel and Instagram. The full performance may be viewed here.
Five Amplified Violin Solos "Composed for the Change of Seasons with Flying Creatures."
TWIRL BIRD
1. Cigales
2. Geese
3. Lightning Bugs and Fire Flies
4. Bees
5. Moths and Butterflies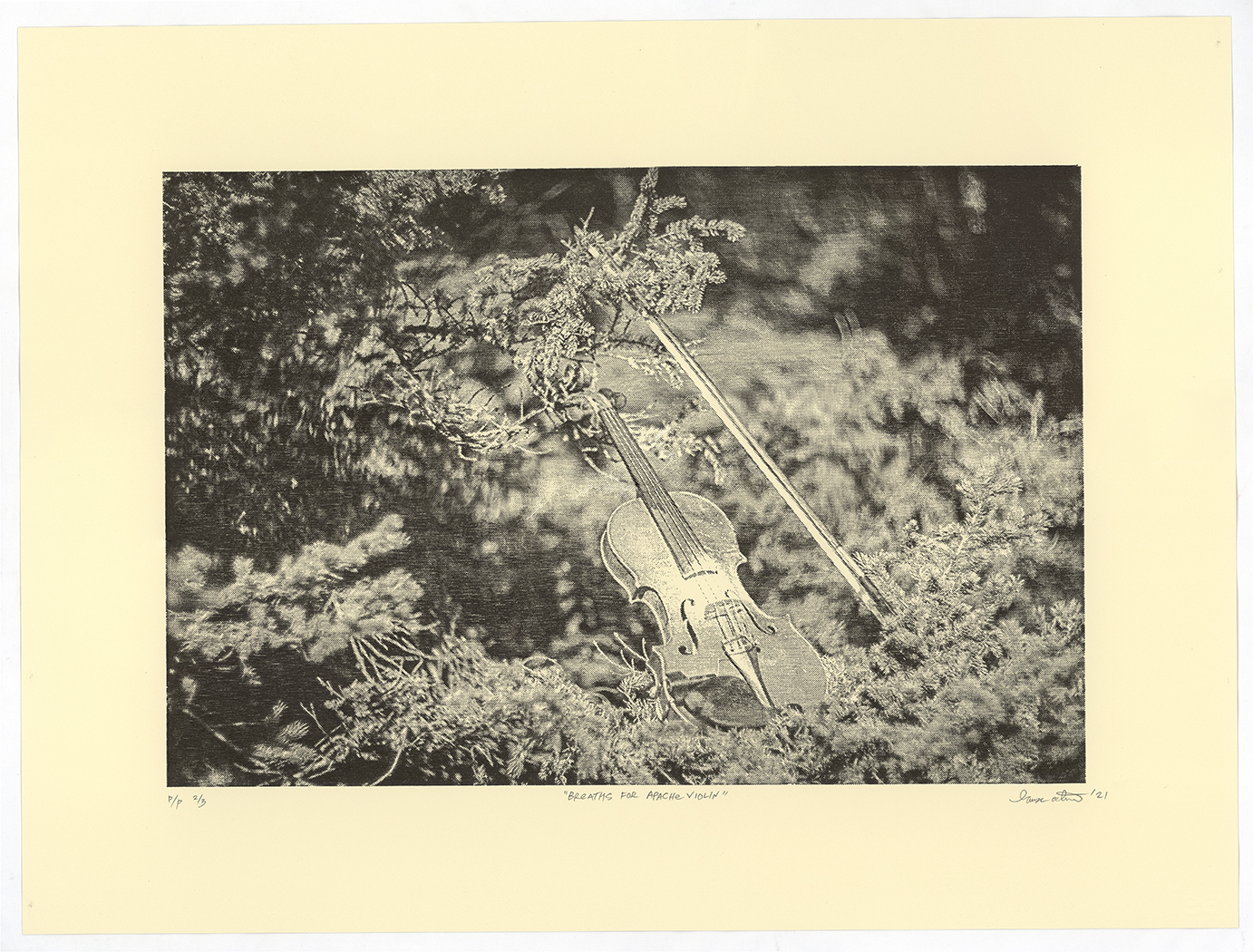 For production on her woodcuts, Laura walked around Alfred to take advantage of the wooded areas surrounding Alfred, NY. Photographing her work with the unique lens of the Helios 40-2 to capture her violin, she then laser engraved her imagery to be printed via a woodblock. Two images were chosen to be printed as editions that were then split between Laura and the IEA. The prints were incorporated into her live-performance through projection.