The IEA welcomed its first AIR for 2019, Nathan Meltz for a visual arts residency. Nathan was at the IEA for the week of February 18 – 22 where he worked in a number of print media and completed two print editions. Nathan also hosted a traveling studio visit for Expanded Media students in the Introduction to Print-Media class. Nathan had generously brought a catalog of his award-winning screenprints for an open presentation and Q & A luncheon with students.
Working with Expanded Media Lecturer, Myles Calvert, Nathan experimented with screened sugar-lift, zinc plate etching, as well Myles assisted Nathan in the production of an edition of laser-cut woodblock multi-ink prints on our Xuan Cloud Dragon Paper. During his productive week at the IEA, Nathan completed a second edition of large-format digital prints on Hahnemuhle Museum Etching paper with hand laid screenprint puff-binder overlay. Aodi Liang assisted Nathan with this second edition. Both editions feature Nathan's image "Saving Seeds".
Nathan Meltz uses collage, printmaking, animation, and performance to comment on the infiltration of technology into every facet of life, from politics and food, to family and war. His solo exhibitions include Southern Illinois University's Vergette Gallery, GRIDSPACE (NYC), the University of Florida – Jacksonville's Andrew Brest Gallery, and Noise Gallery (OH). His international exhibitions include the International Print Center New York, the Trois-Rivières International Printmaking Biennial, Canada, the Museum of Modern Art in Rio De Janiero, Brazil, and more. His recent series "Strangling the Fascist Viper" has received juror awards from the Louisiana International Printmaking Exhibition and the Political Impressions exhibition at the Rochester Institute of Technology, the Printworks Award from Artists Image Resource, Pittsburgh PA, and the Prix de Print award from Art in Print Magazine. Meltz is a Lecturer in the Department of the Arts at the Rensselaer Polytechnic Institute in Troy, New York, and is the founder and curator of the East Coast Screenprint Biennial.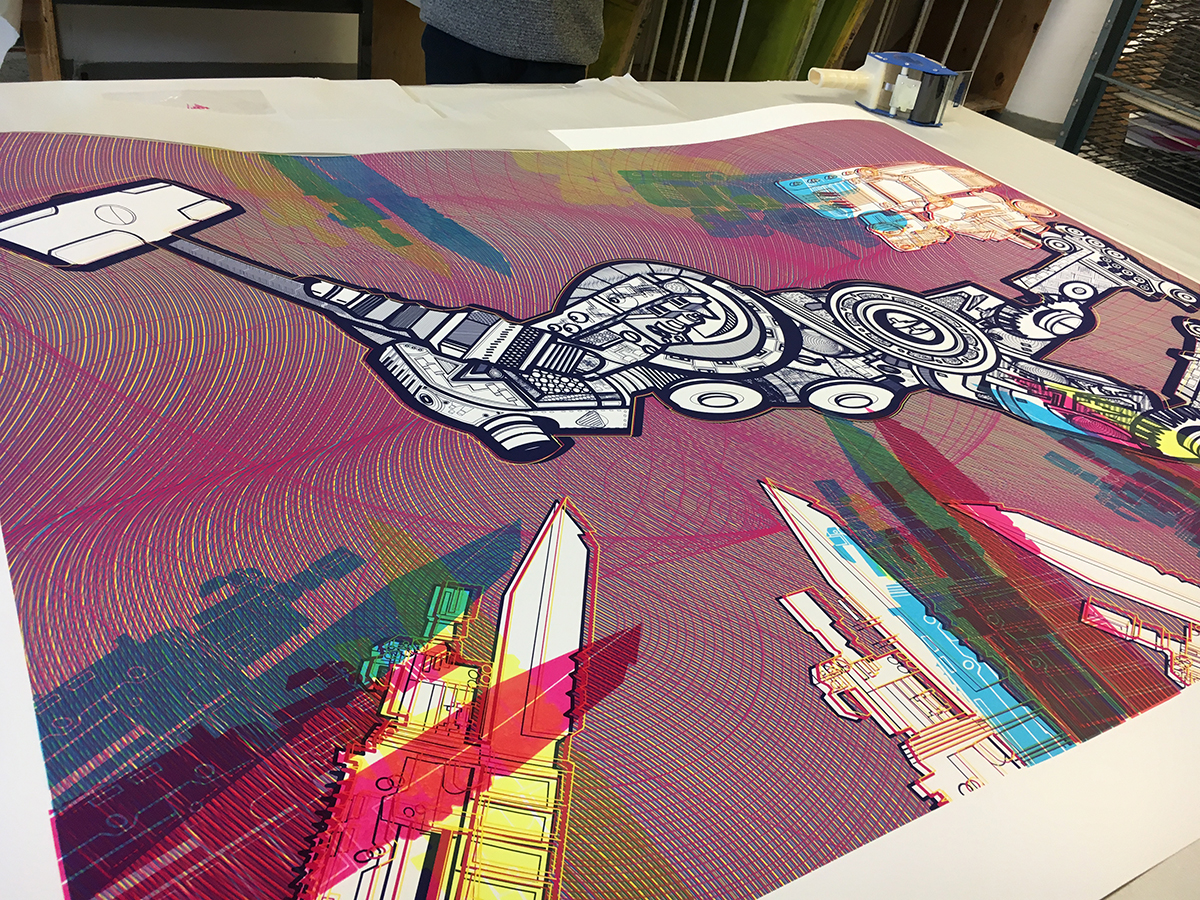 Nathan Meltz digital print with screenprint puff-binder overlay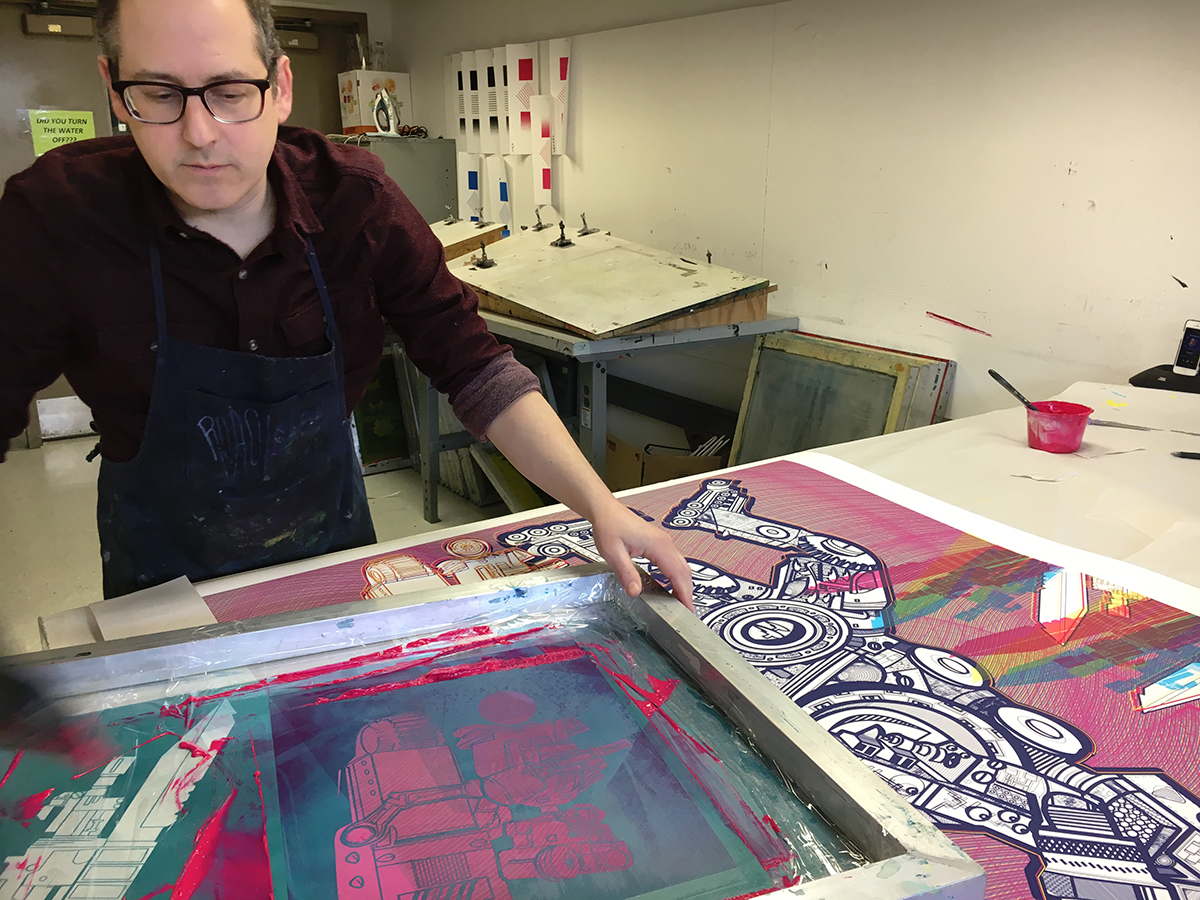 Nathan Meltz applying screenprint puff-binder overlay on digital print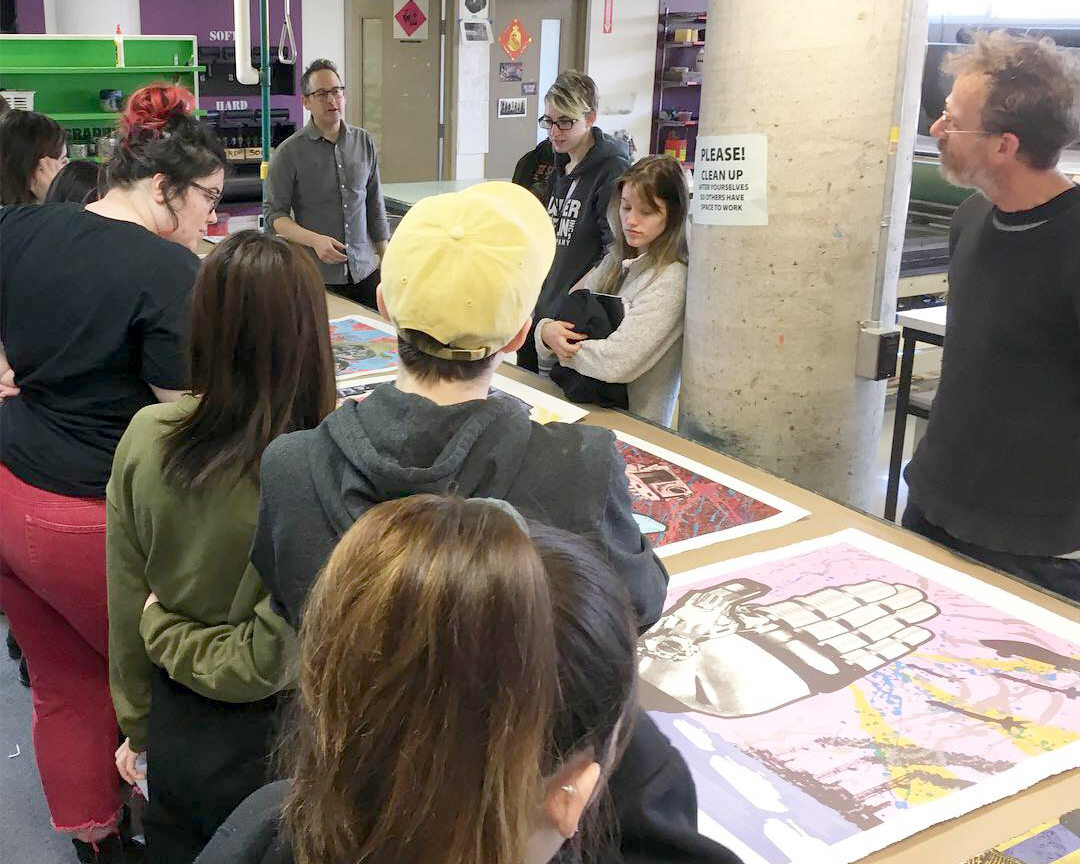 Nathan Meltz traveling studio visit with Expanded Media students